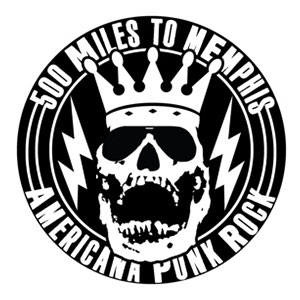 500 Miles To Memphis
500 Miles To Memphis is Ryan Malott (vocals, guitar, banjo), Noah Sugarman (bass, vocals, piano), David Rhodes Brown (lap steel, guitar, vocals), Kevin Hogle (drums, percussion, vocals), Nate Hickey (vocals, guitar, mandolin), and Aaron Whalen (guitar, vocals).
Formed in 2003, the boys of 500 Miles To Memphis came together on the banks of the Ohio River between Cincinnati, OH and Newport, KY. Their
genre-bending take on Americana and punk rock has been received worldwide in the form of movies, TV, video games, and their award-winning
live shows. Logging 250 performances a year, these indie road kings have been to hell and back. After taking a short break from touring in 2017,
500 MTM has jumped back in the studio to deliver their 5th album with Old 97's producer John Pedigo at the legendary Gwynne Sound in Cincinnati.
If you are a fan of high-octane punk rock, bluegrass, and Appalachia, these boys are for you.
Photo Credit: Steph Keller
Photo Credit: Steph Keller
Photo Credit: Steph Keller